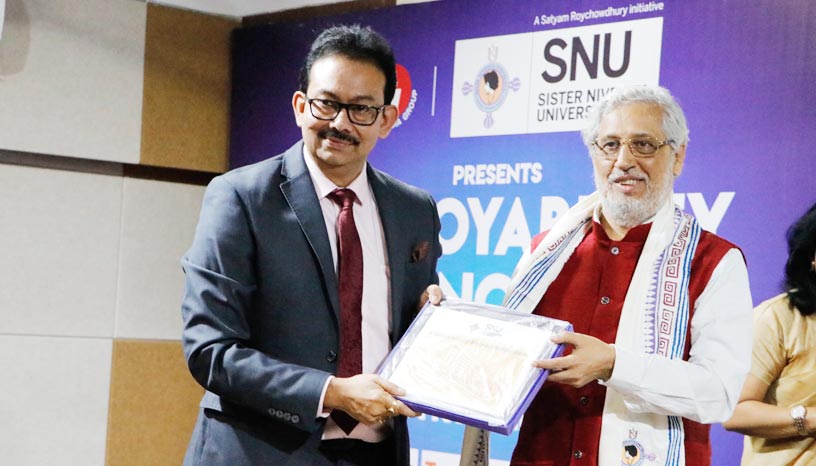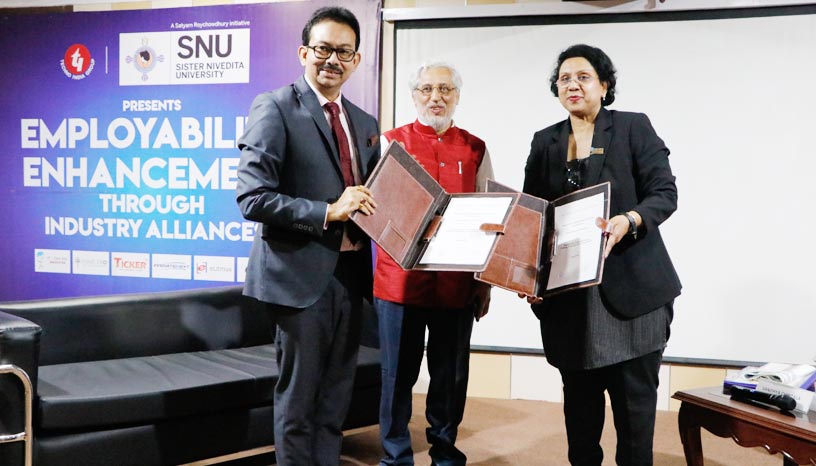 Sister Nivedita University Promotes Employability Enhancement Through Industry Alliance
joins hands with SSC NASSCOM, Pine Biotech, Tickerplant Ltd., Data Science Foundation, eLitmus and InnovationNext on 19th July, 2019 at the SNU Auditorium of Sister Nivedita University Campus,Kolkata.
In order to bridge the industry academia gap and to enhance employability and self-employability in colleges and universities – the National Skill Development Corporation (NSDC) along with University Grants Commission (UGC) and All India Council for Technical Education (AICTE) has developed a unique model to integrate skill based trainings into the academic curriculum in the Universities. These are based on National Occupational Standards set by industry through sector skill councils. The job roles offered are designed to be progressive in nature – from Level 5 – level 7 on National Skills Qualification framework.
With this mission, Sister Nivedita University (SNU) from its very inception has integrated industry designed skill and training modules in the curriculum of the undergraduate and postgraduate programs. As a part of this initiative, SNU in the year 2018 has partnered with multinational giants like Tata Consultancy Services (TCS), SAP, ADOBE, BSE etc.
In continuity of this now, SNU, with a mission to boost employability and self-employability through integration of industry skills bridged with assisted Industrial Internships and placements, is joining hands with industry and industry associations like SSC NASSCOM, Pine Biotech, Tickerplant Ltd., Data Science Foundation, eLitmus and InnovationNext.
Present on the occasion were Prof. Anil D. Sahasrabudhe, Chairman, AICTE, Mr. Chittatosh Mookerjee, ex-Chief Justice of the Calcutta and Bombay High Court, Dr. Sandhya Chintala, Executive Director, IT, Ites Sector Skill Council &VP Nasscom, Mr Mohit Majumder, Director of Business Development, Pine Biotech, Mr. ArindamSaha, Joint CEO, TickerPlant Ltd., Mr. Gautam Banerjee, President, Data Science Foundation, Mr. Aseem Marwaha, Director, Business, eLitmus, Mr.Pravin Rajpal, Founder, InnovationNext, Shri Satyam Roychowdhury, Co-founder & Managing Director of Techno India Group and Chancellor of Sister Nivedita University and Prof Ashoke Ranjan Thakur, Vice Chancellor of Sister Nivedita University. "Curating industry ready professional and thought leaders is a shared value of SNU. Towards this end, we are focused on achieving industry-academia interface. The synergy achieved through this interface results in a win-win situation for both industry and the academia. The industry gains by accessing a pool of young professionals, who can meet industry needs, while SNU can get guidance from industry regarding the direction for research. This outreach ultimately adds to the society and the nation," said Shri Satyam Roychowdhury, Co-founder & Managing Director of Techno India Group and Chancellor of Sister Nivedita University.
SSC NASSCOM aims at implementing Qualification Pack for the students of SNU and TIG Colleges. They will certify the students of SNU after completion of their curriculum, which will be applicable in the IT Sectors across the globe.
The Alliance with Pine Biotechwill help students of SNU and TIG Colleges to have training on Biotech, Bioinformatics, Biomedical and the certification at the end would definitely enhance their employability worldwide. As their motto says "Biology is evolving into a data science and for those uncomfortable with computational analytics, mathematics and statistics, getting started can be a significant challenge." Being one of the leading global content providers, in the financial information services industry, TickerPlant Limited will impart knowledge on economics and commerce. This Alliance will help the students to develop their Business skills in Economics Management, Business Process and Management Skills with their guidance. Their certification at the end of the course will definitely prove fruitful in their future endeavor. Data Science Foundation is a professional body working in the field of Data Science, Artificial Intelligence and Advanced Analytics Sector. The Alliance with this organization would increase the practical implication for students of SNU and TIG Colleges in the field of Data Analysis, Big Data and Data Science.
eLitmusis one of the India's front ranking company whose assessment in acceptance in leading IT companies is known to all. Through this alliance, the students of SNU and TIG Colleges will have a placement opportunity in IT Sectors, worldwide. eLitmus will be helping SNU and TIG Colleges by providing the largest testing facility for students from West Bengal. In short, this Alliance can be described as an incubator for the students, which will help nurture and grow them into thorough professionals.
InnovationNext, as an industry giant, believes in Self Employment and Innovation opportunities through research, product development, commercialization of product, patenting of product, entrepreneurship development, cyber securities, robotics. This Alliance would thus help the students to develop themselves as Entrepreneurs through lab-centric curriculum.
Friday, July 19, 2019
SNU campus, New Town